TEAM EXPRESSION OF INTEREST
2019 has been a hugely successful year for the team both on and off the road, with that in mind we are putting together a roster to continue that growth in a sustainable and progressive way.

Nero will become a UCI Continental team for 2020 which will result in our goals and objectives shifting, whilst having the practical effect on the overall squad size being reduced.
​
We firmly believe the best team of riders does not need to be the best riders in the country, hence we implore you to ensure your personality comes across in this submission.
​
Even if you have previously submitted an EOI to Nero Racing, please go ahead and complete this form.

To make an application what is the initial criteria?
---
You must be a member of a cycling club, but it is expected that you will become a member of Sydney Uni Velo Club upon renewal. SUvelo is one of a major partners and we like to ensure we give back to them as well;



Hold a Cycling Australia race License in the year of acceptance;

Either currently compete or targeting to compete at a high level at NRS races;

Be committed to racing a set number of state races and selected national events (the team will collectively set their goals very early in the season and the whole team will then work towards achieving them);

Be prepared to race in team kit at all races;

Be motivated, enthusiastic, a team-player and a positive ambassador for the team, sponsors/partners and the sport of cycling;

Be willing to commit to the team, including racing as part of a team and training as part of a team;

Be willing to make a copayment towards team travel expenses (depending on type of race);

Be parpared to sign a rider contract and agree to the code of conduct;

Not be a dickhead. This is claus 5.8 in the rider contract.
---
What can we offer you?
---
A supportive and fun team environment lead by Christopher Miller, team management and the race team leadership group;




Progression and development in racing skills, confidence and fitness through participation in a variety of state, national and international events;




Some financial sponsorship, planning and logistics support;




Vlog facetime. Who doesn't want to be in the vlog!!
---
Will I get paid?
---
No Nero riders at any level get paid.
---
Are you a continential team?
---
From 2020 Nero will be a UCI Continental Team.
---
How do I find out what it's like on a Nero race trip?
---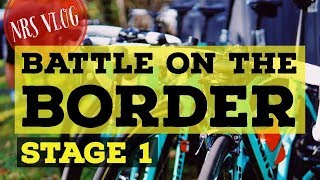 The 2018 Battle of the Border Stage 1 vlog is an excellent look at what a day is like on the NRS tour and how everyone chips in to get things done at the end of the day.
---
---